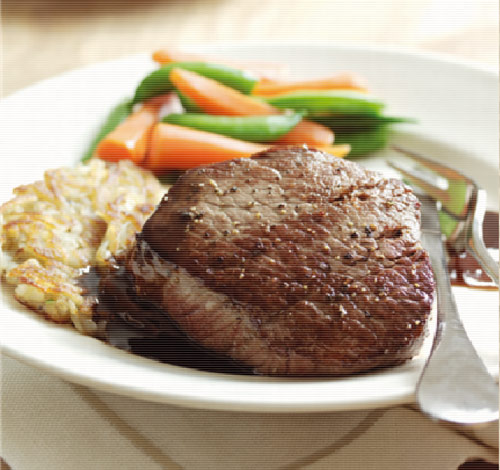 Beef fillet is referred to as the king of the cuts of the king of meats. In order to get the best results, it's important to select beef that has been raised well and hung, making Hereford beef fillet ideal to choose. With Hereford beef fillet it's possible to achieve... read more
Hereford Beef Recipes
Looking for inspiration in the kitchen? We have a selection of delicious and easy to follow recipes that are suitable for home chefs at every level. Come and find appealing home cooked meals for the week ahead along with impressive special occasion showstoppers. All the recipes are perfectly suited to the succulence and tenderness of Hereford beef.
There are plenty of beef recipes to get your mouth watering and ideas flowing in the kitchen. All you need are the ingredients and the desire to cook. Whether you're buying sirloin, fillet, rump or any other cut of Hereford beef, we've got the recipe for you.
Where to Dine
Flavour, tenderness, and succulence are just some of the reasons why Hereford beef has risen to become one of the most sought after meats on today's menus. Restaurants, pubs, food stalls and gourmet fast food outlets are all choosing Hereford beef as their meat of choice to satisfy their discerning customers.
Finding Hereford beef on the menu is easier than it ever has been as the native breed is proving to be a hit with chefs and consumers alike. If you want to delight your senses with quality beef please head on over to see our restaurant listings and discover the country's best places to dine.
A cut above and a breed apart
Have you met Harry the Hereford?
Harry's Buying Tips
Our buying tips will ensure you buy the best cuts of Hereford beef. We'll teach you how to find the best beef, whether you're shopping at your local butchers or the supermarket.
Harry's Cooking Tips
Our cooking tips will help even the most inexperienced cooks get the most out of their chosen cuts of beef. Perfect your roast joint and serve tender and succulent beef, every time.