Hereford Cattle
The Hereford is one of the oldest British Native Breeds of cattle, having roamed the pastures of the British countryside for many centuries.
Originally a draft oxen, it has for the last 300 years been tirelessly producing free-range grass fed quality beef.
We are pleased that you want to learn more about this great breed and its wonderful beef.
It is important to know the provenance of the food you eat so we take great pride in our ability to point consumers in the direction of purveyors of Hereford beef who in turn are able to trace their product from the producer's farm gate to the consumer's plate.
In addition to the traceability of our beef, its high quality, its succulence and its tenderness separate it from all the rest – an eating experience that can only be described as unique.
The natural grazing systems adopted by producers of Hereford cattle ensure that our animals enjoy a fine life which also contributes to the flavour of the meat which is second to none. Our farmers doing everything they can to reduce stress – another all-important factor in producing quality beef. They really care about their cattle – it has never been about quantity, only quality, and always will be…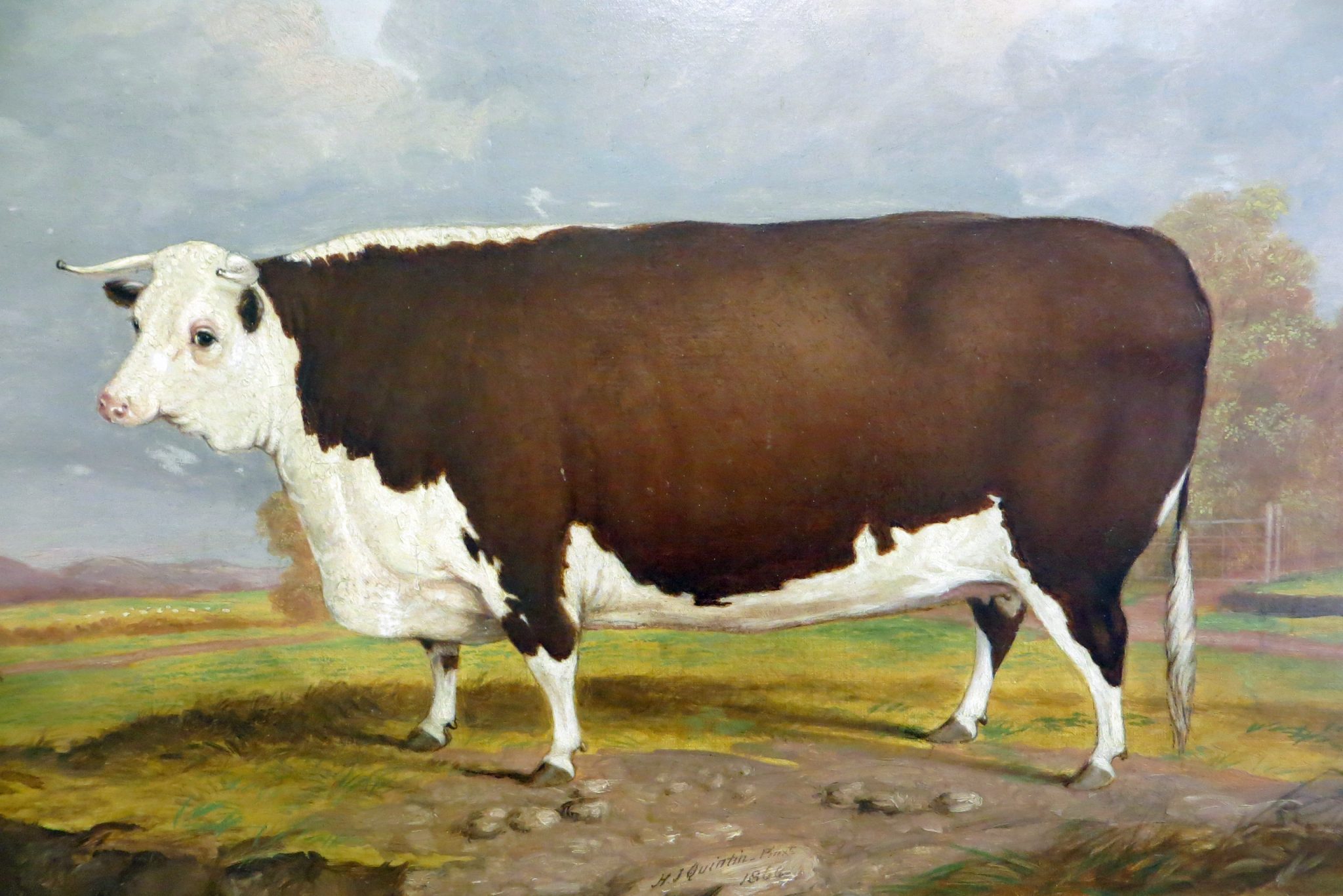 The Famous White Face of the Hereford Breed
The taste and quality aren't the only well-known features of Hereford Beef. The Hereford stands apart thanks to their rich red coat and distinctive white face. The white face helping to aid traceability, a feature also found in all cross breeds of Hereford cattle. When travelling around the countryside see if you can spot the famous white-faced Herefords!
They have a great temperament which makes them safe to work with and a pleasure to raise. They love to eat; they love to breed and the lack of stress only adds to their exquisite flavour.
Herefords appear at many agricultural shows across the UK – so visiting one of these events is an ideal way of viewing and learning more about these fabulous animals.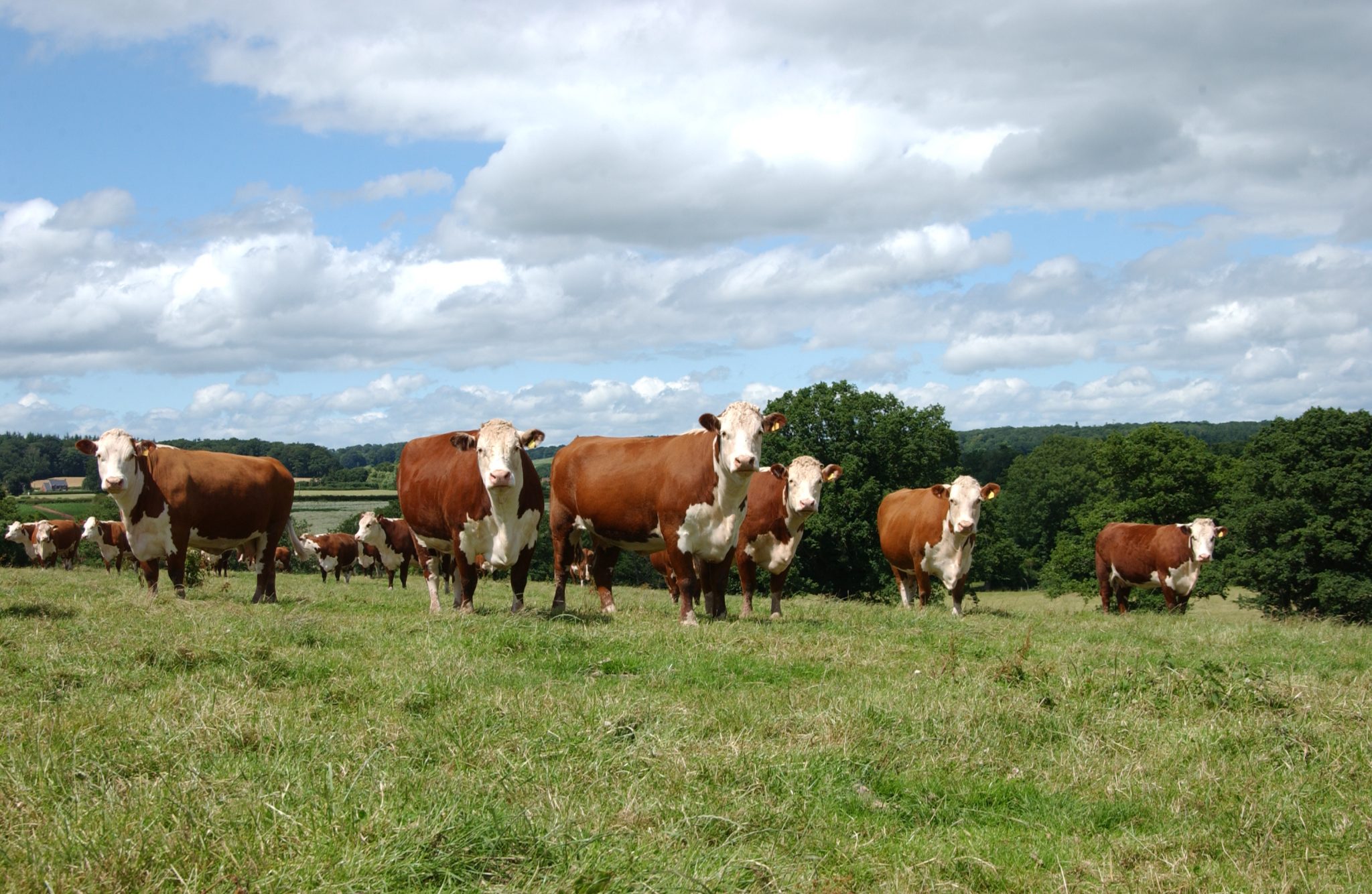 A Little History on How the Breed Evolved
Back in Roman Britain, the inhabitants of the Welsh Marches borderland between England and Wales may have devoted a great deal of their time to tribal warfare, but they still worked the land.
Sturdy oxen and Welsh border cattle were a feature of fourth century countryside, and cattle bred to live off the land and forage for themselves had an increasingly important role as time passed.
Herefordshire and its surrounding areas became known for the size, hardiness and high quality of its cattle, characteristics noted by commentators in the 17th and 18th centuries, and by the end of the latter the white face and deep red coat of the present breed were established.
The first Hereford breeder Benjamin Tomkins "The Elder" began breeding Hereford cattle in 1738 at the Court House in Canon Pyon, Herefordshire and in 1758 moved to nearby Wellington Court where he lived until his death in 1789.
The Hereford Cattle Society, based in the city of Hereford, was founded in 1878 under the Patronage of Queen Victoria and as a result of over 250 years of selective breeding these red-coated, white-faced cattle are now the world's most recognised beef breed. The breed's ability to adapt to varying climatic conditions, making it the cornerstone of the International Beef Industry.
Today, close to ten million Herefords now exist in over 120 countries, providing a profitable market for farmers and high quality marbled beef for consumers.

A short film about one of Britain's finest beef breeds.

Some Notable Dates
1742 First Herefords bred by Benjamin Tompkins at Court House Farm, Canon Pyon, Herefordshire.
1817 First Herefords – two pair of Herefords – imported into the United States of America by Kentucky Statesman, Henry Clay.
1840 First breeding herd in America established by William H. Sotham and Erastus Corning of Albany, New York.
1878 Hereford Herd Book Society founded under the patronage of Queen Victoria.
1904 First Herefords exported to Russia.
1940 A ship carrying a consignment of Herefords to America was torpedoed in the Atlantic. Two of them swam ashore to Ireland, showing the stamina of the breed.