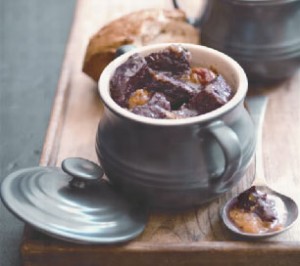 A wonderful concoction using these rich and luscious flavours; damsons, wine and star anise – yum.
Serves: 4-6 People
Oven temperature
Gas mark 4-5, 180°C, 350°F
Time to cook Approximately 1 1⁄2 -2 hours
Ingredients:
Lean braising steak
Flour
Oil
Celery
Onion
Garlic
Parsnips
Star anise
Green peppercorns (optional)
Damson or red wine
Damson jam
Fresh damsons or Red plums
Method:
Toss 450g (1lb) lean braising steak, cubed, in 15ml (1tbsp) seasoned flour. Heat 30ml (2tbsp) oil in a large frying pan, add the meat and brown. Add 1 stick celery, sliced into chunks, 1 onion, peeled and chopped, 2 garlic cloves, finely chopped, 2 parsnips, peeled and cut into long wedges, and cook for 1-2 minutes. Add 2 star anise and 10 green peppercorns (if using).
Mix 600ml (1pt) Damson or red wine and 30ml (2tbsp) damson jam and pour over the vegetables, season, bring to the boil. Transfer to an ovenproof casserole and cook for 1 1⁄2 hours until meat is tender. 30 minutes before end of cooking time stir in 12-15 fresh damsons, stoned or 8 plums, stoned and halved. Remove star anise before serving.
Eat:
Serve with rustic brown bread to mop up the lovely juices and a bowl of seasonal vegetables.