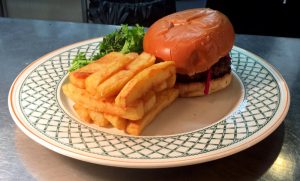 Burgers on a summer's day are always delicious and greatly appreciated. We have selected three of our favourite Hereford beef burger recipes that are perfect for throwing on the barbecue or cooking inside if the weather turns.
The Coop Beef Burgers
Pick up some Hereford beef mince in your local Coop and use it to make this delicious recipe for classic burgers. You need:
400g of Hereford mince beef
4 white buns
Baby gem lettuce
1 salad tomato
½ finely chopped brown onion
1 tbsp of Worcestershire Sauce
1 tbsp tomato puree
Mix together the Hereford beef mince, tomato puree, onion and Worcester sauce in a mixing bowl. When combined, shape the mince into 4 equal sized patties. Heat up the frying pan, griddle or the barbecue and cook until cooked (roughly 3 or 4 minutes on each side). Toast the burger buns and add the burger, lettuce, a slice of tomato and any sauce you'd like on top.
Steak Burgers with Peppercorn Sauce
You'll need 400g of Hereford steak mince (ask your butcher) and the following ingredients:
4 shallots
1 tbsp sherry vinegar
2 tsp crushed black peppercorns
150ml beef stock
5 tbsp double cream
A splash of Worcestershire sauce
1 tsp garlic salt
4 slices of emmental
4 brioche burger buns
Gem lettuce
Make the peppercorn sauce by warming a knob of butter in a frying pan. Cook 2 of the finely chopped shallots until golden. Add vinegar and peppercorns until the vinegar has almost completely evaporated before adding in the stock and Worcester sauce. Cook until the mixture has reduced by half before adding the cream and allowing to simmer for 2 minutes.
Make the burgers by mixing the 2 chopped shallots left over with garlic salt and the Hereford steak mince. Mix well before shaping into 4 flat patties. Cook the patties in a frying pan for about 2 minutes on each side, add the slice of emmental to the top of each one and serve in the buns with lettuce.
The Hereford Beef Burger
For our Hereford beef burger recipe you need 1kg of Hereford mince beef and:
1 onion
I clove of garlic, peeled and roughly cut
4 sundried tomatoes
Place the onions, garlic and tomatoes in a food processor and pulse blend until chopped (or chop by hand). Add the mixture into a bowl with the Hereford mince beef, season and mix until combined. Shape into 4 patties and heat in a frying pan for around 4 to 5 minutes. Serve with your favourite garnish in toasted brioche buns and Sweet potato fries.
Do you have a favourite beef burger recipe? Share with us over on our Facebook page.