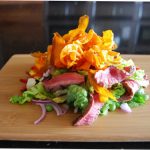 Whatever the season, Hereford Beef is the prime ingredient for creating a wealth of delicious and nutitious dishes. Try your hand at these latest recipe ideas and everyone will be coming back for more.
Thai Beef Salad Recipe
Hungry for healthy options? This quick and easy Thai beef salad recipe tastes incredibly refreshing. Serving four people in just 20 minutes, the dish unites tender Hereford Beef steak with authentic Thai flavours – simple yet vibrant! Visit this link for the full list of the Thai Beef Salad ingredients, measurements and method.
Alfresco Hereford Beef Recipe
Gather your loved ones for this exceptional alternative to a traditional Sunday Roast. The complete list of ingredients and cooking method are found here on our website. 
Balsamic Steak Salad Recipe
Here's a hearty steak salad that's perfect for wowing guests at parties and barbecues.  Click here for the ingredients and method.
Hereford Beef is now available at Waitrose, Coop, Lidl, Ocado and some Sainsburys.  
Share your magical meals on social. Don't forget to tag @HerefordbeefUK in your photos on Facebook, Instagram or Twitter.