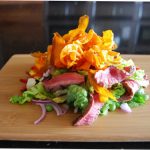 It's warming up, finally. That means it's time to find some refreshing recipes that will keep you energised, well-fed and refreshed. Here are three delicious and nutritious beef recipes that the family will love. Don't forget to pick up some Hereford beef for each of these recipes. Ask your butcher or visit your local farm shops or supermarkets.
Thai Beef Salad Recipe
Hungry but trying to avoid unhealthy meals? This Thai beef salad recipe is ideal for you. It takes just 10 minutes to prepare and 10 minutes to cook and serves up to 4 people. You'll need 500g of Hereford beef fillet or rump steak and a mixture of salad ingredients including red onions, cherry tomatoes and mixed salad leaves. For the dressing you need Thai fish sauce, fresh lime, red chilli, brown sugar, vegetable oil and soy sauce. Visit this link for the full list of ingredients for the Thai beef salad, measurements and method.
Alfresco Hereford Beef Recipe
Bring the family together with this alternative to the traditional Sunday roast dinner. Ask your butcher for 1.3kg of Hereford topside, silverside or a sirloin joint. The complete list of ingredients and cooking method are found here on our website. This summer beef recipe serves 6 people and takes 1 hour 40 minutes to cook.
Balsamic Steak Salad Recipe
Here's a delicious and hearty steak salad recipe, full of nutritious vegetables and bursting with flavour. This is the perfect recipe for parties and barbecues but also works as an everyday meal. You need Hereford sirloin steak, green salad, cherry tomatoes, mozzarella cheese, and red onion. Serve with the balsamic vinaigrette dressing and fresh basil. Click here for the ingredients and method.
Hereford beef is now available at Waitrose, Coop, Lidl, Ocado and some Sainsburys. We love to see your culinary creations. Don't forget to tag @HerefordbeefUK in your Hereford beef meal photos on Facebook, Instagram or Twitter.