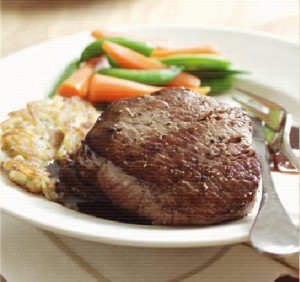 Preparation time: 40 minutes plus cooling and overnight chilling
Ingredients:
1 shallot, finely chopped, 1 garlic clove, crushed, 100g mushrooms (wild or any type – sliced if large)
100g/4oz chestnut mushrooms, sliced,
2 tbsp white wine, 1 tbsp chopped parsley and chives
1 whole beef fillet (6cm, 2 1⁄2 inch in diameter and 2 lb in weight)
4 tbsp double cream, 1 egg yolk, 2 tbsp grated parmesan
Method – Day 1
1. Sauté shallot and garlic in 1 tbsp of oil for 5 minutes.
Add 2 tbsp oil and sauté all mushrooms for 7 minutes.
Pour in wine and cook for 5 minutes.
The mixture should reduce and be quite dry.
Mix in herbs and leave to cool.
Trim beef fillet, brush with oil/season and sear the beef for 10 – 12 minutes, rolling it to cook all the way around the outside (cook for another 5 minutes if you like beef well done!)
Whip the cream until stiff, fold into mushroom mixture along with egg yolk. Cover and chill in the fridge overnight.
Wrap the cooled meat in cling film and chill overnight.
Day 2
Preheat oven to 220°C, Gas 7.
Cut fillet into six even sized portions and place in a lightly greased, ovenproof dish. Pile mushroom mixture on top of each steak and top each one with a little parmesan. Cook uncovered for 12 minutes until topping is bubbling and golden.
Serve immediately