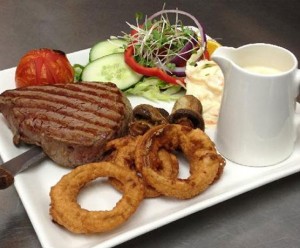 Beef and Stilton,the perfect combination – a recipe using one of England's finest cheeses.
Feeds: 2 – This recipe can simply be increased if feeding more than 2
Time to cook – see table
Ingredients:
Lean beef steaks*, Oil, Red onion, Stilton cheese, Soft cream cheese, Semi-skimmed milk & English mustard
Method:
Heat 15ml (1tbsp) oil in a pan and cook 2 lean beef steaks* according to chart below along with 1⁄2 red onion, cut into thin slices. Once cooked, remove from the pan and keep warm.
Add to the pan 50g (2oz) Stilton cheese, 30ml (2tbsp) soft cream cheese, 15ml (1tbsp) semi-skimmed milk and 5ml (1tsp) English mustard. Heat gently for 1 minute
Eat:
Serve the sauce poured over the steaks with the red onion, new potatoes and seasonal vegetables.
* Suitable cuts: sirloin, rump, fillet
Preheat the grill or pan – Timings relate to the thickness of the meat