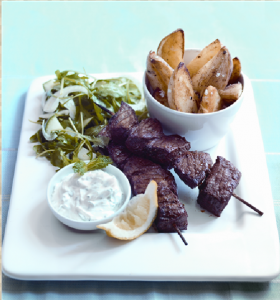 Time to cook
Rare: 2 1⁄2 minutes on each side
Medium: 4 minutes on each side
Well done: 6 minutes on each side
Ingredients: 
450g (1lb) lean beef sirloin, rump or topside steaks, cut into 2.5cm (l inch) cubes
Marinade:
30ml (2tbsps) coconut milk
5ml (1tsp) light soft brown sugar
1 red chilli, deseeded and finely chopped
1 garlic clove, peeled and finely crushed
Salt and pepper
1 large handful freshly chopped coriander
Extra coriander leaves and finely chopped red chilli, to garnish
Method:
Prepare the marinade ingredients in a large shallow bowl.
Thread equal amounts of the beef cubes onto 4 short metal or wooden skewers, place into the marinade and coat the beef cubes. Cover and marinate in the refrigerator for 20 minutes.
Cook the steaks according to preference on a preheated grill or barbecue, turning once.
Serve the satays scattered with extra coriander leaves and chopped red chilli.
Eat: Serve the satays with crusty bread and a spinach and tomato salad with elderflower dressing
Tip: If using wooden skewers soak in cold water for 20-30 minutes