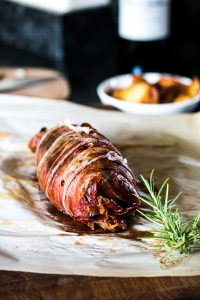 Fed up of turkey for Christmas dinner? You're not alone. Many families only buy turkey for the sake of tradition. You don't have to choose a poultry centrepiece if you are in the mood for a change. Money should be spent on food that you're all going to enjoy. With that in mind, we have three magnificent Christmas Dinner ideas to inspire you.
Hereford Rib with Kumquats
If you have a lot of mouths to feed we recommend serving Hereford rib with kumquats. This dish serves 10 people and is perfect served with roast potatoes, seasonal vegetables, Yorkshire puddings and walnut stuffing. Find the ingredients and the cooking method, here.
Ultimate Roast Beef Christmas Dinner
Smaller parties will devour the ultimate roast beef Christmas dinner for 8 people.  If you don't have 8 people, you'll be able to make good use of the leftovers for tea of on Boxing Day. Try this recipe with 2.5kg of Hereford rib on the bone. Find the complete list of ingredients and the cooking method, here.
Hereford Beef Wellington
Wow your family with a beef wellington served with prosciutto, wild mushrooms and truffle pea puree.  This dish is just perfect for Christmas day and it tastes absolutely delicious. The great thing about this recipe is that some of it can be done the day before Christmas day, saving you some precious time in the kitchen.  Find all the ingredients and the cooking method for all of the components, here.