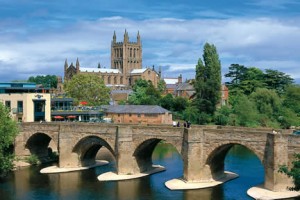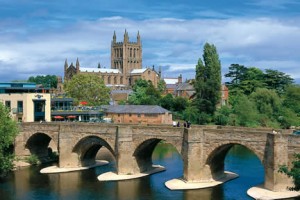 Hereford is located just 16 miles from the Welsh border. It's a wonderful part of the world with plenty of beautiful countryside and lush pastures, ideal for raising healthy grass fed cattle, such as pedigree Hereford Beef.
While some farmers believe Hereford would benefit greatly from being integrated with Wales, the richness of the fertile soil and the incredible countryside, make farming a pleasure and delivers excellent high quality produce, including but by no means limited to, beef, lamb, apples, pears, blackberries and potatoes.
The Cathedral city lies on the River Wye and is crammed full of incredible local farmers who work tirelessly to produce the much loved foods that are in high demand all over the country and beyond.
If you have the opportunity to visit the county, make sure you sample the incredible beverages and foods made right here, such as:
Chase Vodka
Westons Cider
Wye Valley Brewery
Woodredding Cider and Perry
Monkland Cheese
Rowlestone Farmhouse Icecream
You'll also find an abundance of restaurants and bars where you'll find Hereford beef on the menu. If you fancy cooking your own check out our list of Hereford Beef suppliers.