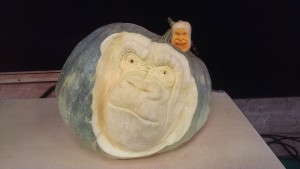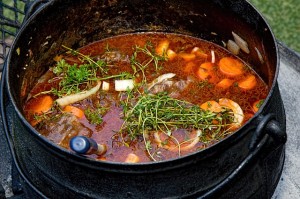 Halloween is around the corner and if you enjoy this seasonal event you'll no doubt be carving a few pumpkins with the family. Below are a few examples of the kind of art you can create. We spotted pumpkin carver Simon Mcminnis busy working away on his Joe Swift (Gardener's World fame) masterpiece as we explored the Malvern Autumn Show.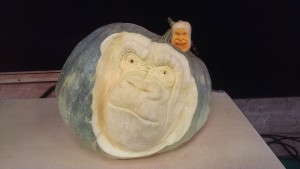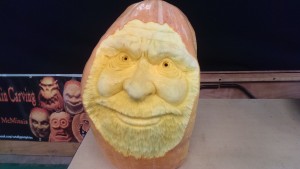 While carving is great fun it can also be a lot of fun cooking with this incredible fruit that often gets overlooked here in the UK. If you don't like the idea of food going to waste and are fed up of pumpkin soup, how about making a Hereford Beef and Pumpkin stew?
We've found a selection of great pumpkin and beef recipes for you to try. Just remember to choose the best ingredient possible to make your stew extra tasty. Prepare your stew and have it ready for when you get back in from trick and treating with the kids, or put it on as a dish for your guests to enjoy at your Halloween party.
Beef and Pumpkin Stew – Chilean Style
We recommend using topside of Hereford Beef a fresh pumpkin and a fresh pepper to add an extra kick. The whole list of ingredients and cooking method of a great tasting beef and pumpkin stew can be found by clicking here.
Hearty Beef and Pumpkin Stew
This is a fun recipe as the stew is served inside the pumpkin – make sure you don't use a pre-carved one so there are no leakages. Click here for the recipe.
The Wicked Witch Beef Stew
Another stew that makes great use of pumpkin and chunky vegetables. The ingredients and method can be found here.
Share your pumpkin and Hereford beef recipes with us on Facebook, or tag @HerefordBeefUK in your photos on Instagram and Twitter.