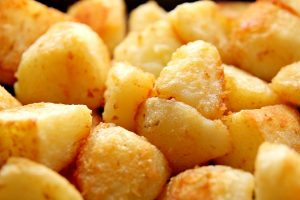 Roast potatoes can be difficult to master. It's hard to get the right amount of crunch on the outside while keeping the potatoes fluffy on the inside. We have a few tips on how to achieve the perfect roast potatoes, just in time for perhaps the most important dish of the year, Christmas Dinner.
Pick the Right Potato
You need a floury potato that is packed full of starch if you want to achieve perfection. One of the most popular varieties to choose is Desiree, the potato of choice for Hugh Fearnly-Wittingstall no less. You do have some other options open to you:
The Right Fat
Next, you'll need to buy the right type of fat. Again, you do have a few options and it's a good idea to try a few different fat types to find the right one for you and your family.
Lard – ideally rendered from your own pork fat as it doesn't contain the chemicals you'll find in the supermarket lard.
Goose fat – preferred by Nigella.
Duck fat is perfect if you would like a rich, luxurious roast potato.
Vegetable oil.
Rapeseed oil.
Groundnut oil.
Olive oil.
Preparing the Spuds
Not everyone agrees on how long to parboil the potatoes for. This is another thing for you to try out at home. Traditionally, the potatoes are boiled for 20 minutes. However, some modern day chefs are choosing to only parboil for up to 8 minutes.  You could even try your hand at the microwave technique, blasting the potato in the microwave for 5 minutes. This method reduces the roasting time from 30 minutes to 10 minutes – perfect if you're in a bit of a rush.
Crispy Roasts
You want to rough up the potatoes a bit in order to obtain the perfect amount of crispiness.  You can shake them up in a saucepan, remembering to keep the lid on of course. Alternatively, you could scrap the surface of the potatoes with a fork instead after allowing them to cool down.  Many chefs allow the potatoes to cool before cooking, saying that this method really helps to create the perfect crisp potatoes.