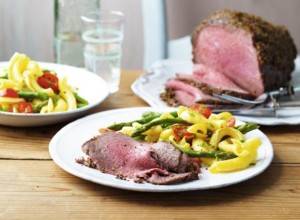 This simple roast beef recipe uses herbs that you may already have in your cupboard to provide a crispy coating for the beef. The pasta, asparagus and cherry tomato salad provides a wonderful accompaniment for a nice light roast meal.
Serves: 8
Cooking Time: 1 hour 40 minutes (for 3lb lean beef topside joint)
Ingredients:
1.3kg/3lb lean beef topside joint
30ml/2tbsp dried mixed herbs
10ml/2tsp fennel seeds, crushed
10ml/2tsp olive oil
Salt and freshly milled black pepper
For the Pasta, Asparagus and Cherry Tomato Salad
375g/12oz cooked pasta shapes
1 bunch (approx. 350g) whole asparagus, halved, lightly cooked and cooled
100g/4oz cherry tomatoes, thinly sliced
For the Dressing
30ml/2tbsp freshly chopped chives
30ml/2tbsp white wine or cider vinegar
10ml/2tsp caster sugar
15ml/1tbsp olive oil
Method:
Preheat the oven to Gas mark 4-5, 180-190°C, 350-375°F.
In a small bowl mix together the dried herbs, fennel seeds, olive oil and seasoning.
Place the joint on a chopping board, score the skin and rub the herb mixture all over.
Place the joint on a rack in a non-stick roasting tin and open roast for the preferred calculated cooking time, basting occasionally with any meat juices. Cover the joint with foil if browning too quickly.
Remove the joint from the roasting tin, transfer to a warm plate, cover and leave to rest for 5-10 minutes before carving.
Meanwhile, place the pasta, asparagus and cherry tomatoes into a large bowl.  Put the dressing ingredients into a screw-topped jar, season and shake until combined. Pour over the salad and serve with the beef.