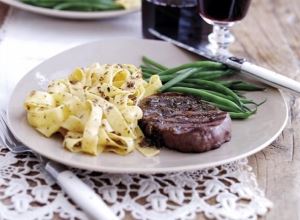 A steak dish to share with the one you love. Lean fillet steaks are cooked and served with a speedy anchovy and rosemary butter sauce and cooked tagliatelle is tossed in the sauce too.
Serves: 2
Cook Time:
Based on a 2-3cm/¾-1¼inch thick steak
Rare 3-4 minutes on each side
Medium 4-5 minutes on each side
Well Done 6-7 minutes on each side
Ingredients:
2 lean fillet steaks
Salt and freshly milled black pepper
10ml/2tsp oil
For the Anchovy and Rosemary Butter Sauce:
75g/3oz unsalted butter
1 shallot, peeled and finely chopped
2-3 anchovy fillets in oil, drained and finely chopped
15ml/1tbsp freshly chopped rosemary leaves
5ml/1tsp good quality balsamic or red wine vinegar
200g/7oz cooked tagliatelle, to serve
Method:
For the butter sauce:
Heat a small non-stick pan and add the butter, shallot, anchovies and rosemary. Cook for 2-3 minutes until the shallots are cooked and lightly golden.
Remove from the heat and stir through the balsamic vinegar or red wine.
For the steaks:
Heat a large non-stick griddle pan; meanwhile place the steaks on a large plate or chopping board, season and coat with the oil on both sides.
Cook the steaks according to your preference.
Transfer the steaks to a warm plate and drizzle over a little of the sauce.
Toss the cooked tagliatelle in any remaining sauce from the pan and serve with the steak and seasonal vegetables.