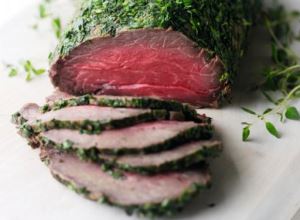 This cured beef fillet or sirloin requires marinating in a brine over night but is quick to prepare and cook and has a wonderful fresh flavour for a summery lunch or supper to wow your guests.
Serves: 4
Ingredients:
900g/2lb lean beef fillet or sirloin joint
75g/3oz coarse sea salt
Freshly milled black pepper
125g/4oz golden caster sugar
100ml/3½floz dry white wine
1 large onion, peeled and finely chopped
15ml/1tbsp olive oil
30ml/2tbsp fresh flat-leaf parsley, finely chopped
15ml/1tbsp fresh mixed herbs (such as chives, thyme and tarragon), finely chopped
For the Bay Infused Potatoes:
1kg/2lb small new potatoes, cooked and halved
1 red onion, peeled and halved
2 whole garlic cloves, peeled
5-6 bay leaves, torn
40g/1½oz butter
10ml/2tsp extra virgin rapeseed or olive oil
5ml/1tsp ground paprika
Method:
In a large dish mix together the salt, pepper, sugar, wine and onions.
Pour the mixture into a large double-lined plastic food bag. Add the beef and coat all over with the mixture. Seal, place on a large plate and refrigerate overnight.
Preheat the oven to Gas mark 6, 200°C, 400°F.
Remove the joint from the marinade mixture and pat dry. Heat the oil in a large non-stick frying pan and sear the joint all over until brown.
Transfer to a metal rack in a large non-stick roasting tin and open roast for 25 minutes (rare) or 35 minutes (medium). Remove from the oven and set aside to cool for 30 minutes.
Place a large square of aluminium foil over a chopping board and scatter with half the herbs.
Position the beef on top of the herbs, pressing down to coat evenly then scatter the remaining herbs on top. Wrap up tightly in the foil and refrigerate for up to 2 hours.
Thinly slice and serve at room temperature with bay infused potatoes.
For the Bay Infused Potatoes:
Place the potatoes, onions, garlic and bay leaves in a large pan of boiling, salted water and cook for 15-20 minutes, or until almost tender. Drain and set aside to cool. Remove and discard the garlic cloves and bay leaves. Cut the onions into wedges.
Heat the butter, oil and paprika in a large non-stick pan over a moderate heat. Add the potatoes and onion wedges, tossing gently. Cook for 3-4 minutes.
Transfer and serve with the cured beef fillet.