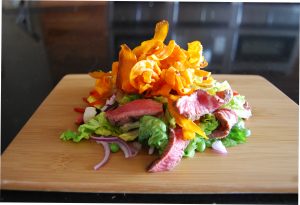 Serves: 2
Prep Time: 20 minutes
Cook Time: 10 minutes
Ingredients:
150g Hereford beef fillet
1 Little gem lettuce, shredded
1⁄2 red onion, very finely chopped
2tbsp chopped mint
2tbsp chopped coriander
1 red pepper, finely sliced
10 water chestnuts, cut in half
Ingredients for the crisps:
1 small sweet potato
Oil for deep fat frying
Ingredients for the dressing:
1tbsp sunflower oil
Juice of 2 limes
1tsp sesame oil
1 small chilli, finely chopped
1 garlic clove, crushed to a puree
1" root ginger, grated
1tsp honey
1tsp rice wine vinegar
1tsp fish sauce
Method:
First make the dressing by mixing all the ingredients together and taste for seasoning. Should have a good balance of sweet, sour and salty.
For the salad; prepare all the ingredients and then mix together in a bowl. Do not dress until the last minute.
To make the sweet potato crisps; peel the potato, and then still using the peeler, peel off strips of the vegetable.
Heat some oil in a pan and test with a piece of bread after about 2 minutes and check for 20 second browning of the bread.
If you have reached the correct temperature, lower the sweet potato into the oil and fry until light golden at the edges. Remove and drain on kitchen paper.
To cook the steak; heat a small amount of oil in a pan, add the steak and cook until desired doneness. Leave to rest for ten minutes and then slice.
To assemble; toss the dressing in with the salad. Pile high on a plate and top with beef and the crisps and serve immediately.