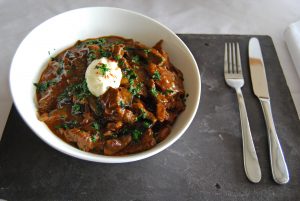 Serves: 2
Prep Time: 20 minutes
Cook Time: 10 minutes
Ingredients:
1tsp paprika
1tbsp oil
400g Hereford beef fillet
1tbsp olive oil
20g butter
1 shallot, finely chopped
100g Chestnut/Portobello mushrooms
3tbsp brandy
1tbsp flour
1tsp tomato puree
150ml beef stock
2tsp mustard
150ml sour cream or crème fraiche
Flat leaf parsley to decorate
Method:
Rub the 1tbsp of oil and paprika into the beef slices and leave for 5 minutes.
Heat 1tbsp of olive oil into a frying pan and then brown off the beef very quickly.
Remove with a slotted spoon.
In the same pan, add the butter and add the shallot and chestnut mushrooms and allow to soften.
Flambé with the brandy until evaporated.
Add the flour and tomato puree and cook for 1 minute.
Add the stock and reduce down until syrupy.
Return the meat to the pan.
Add the sour cream, pour into a dish and sprinkle with flat leaf parsley.