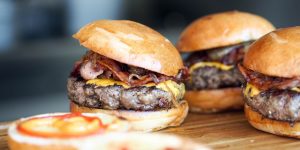 We've been enjoying a heatwave and there's more to come! Let's make the most of this sunshine and invite our family and friends over for some tasty food and even better company. Visit your butcher and stock up on some Hereford beef and try out these BBQ tips for yourself.
Muffin trays and cake tins are perfect for serving up your delicious home-made sauces (or bottled, we won't judge) and condiments. Place teaspoons in each sauce and place on the table. This tip also works for toppings such as onions, gherkins and peppers too.
If your grill is dirty don't worry about scrubbing it clean. Heat it up with some coals and chop an onion in half. Place the onion on the end of a fork and use it to clean all away all the dirt and grime. It's a great little tip that can save on your elbow grease.
We're fighting plastic waste so don't buy throw away straws. There are lots of excellent alternatives to straws, including glass and stainless steel. These reusable straws look great and they can be used for years and years.
Don't serve steak and burgers without serving up some veggies too. Clean your veggies, drizzle in oil and season before wrapping in silver foil and placing on the BBQ. Add some honey too if you're feeling it.
Don't squeeze the burgers, leave them to cook on the grill and the natural juices will ensure the burger is succulent and not dry when it comes time to serve.
Marinade your meat in the fridge overnight. There are plenty of different marinades to try, from classic BBQ to teriyaki and hot sauces too.
Let your meats reach room temperature before throwing them on the BBQ.
Steaks can be served rare, but make sure your burgers are cooked through before serving.
Allow the meat to rest before serving to your guests. Cover the meat with some silver foil and hand out the drinks for a few minutes, maybe toast the sunshine too!
Don't forget that burgers do shrink a little when they're cooked. Make your Hereford beef burgers big!
Don't forget to check out our recipes and read The Top 5 Burger Tips from the Beefy Boys too. Have the best summer possible with delicious BBQs and give the oven a break.