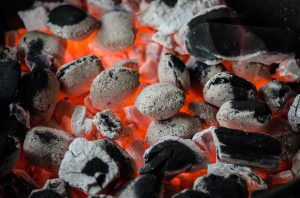 Hopefully, we will have a dry and warm Bank Holiday this year, which will mean many people will clean down the grill and hold an impromptu BBQ.
What better way to spend the long weekend than inviting over friends and family and enjoying some good food, a few drinks and perhaps a game of badminton or swing ball in the garden.  We have pulled together ten BBQ tips that will help to ensure your day in the garden is a big success.
Add some wood chips to your charcoals for added flavour. There are plenty of different wood chips to choose but two of our favourites are cherry and apple wood or a whisky soaked wood chips.
Opt for lump wood charcoal if you can find it, it provides a great flavour to your food.
Allow your Hereford beef to come to room temperature before putting it on the BBQ.
Wait for the charcoal to turn grey before you start cooking.
Always make your own burgers as they taste so much better. You can use Hereford minced beef and mix it with just salt and pepper if you're pushed for time or not keen on spending too much time in the kitchen.
Marinade your meat for a few hours before you put it on the barbecue and continue to brush the meat or fish with marinade during cooking.
Don't forget to add vegetables and salad to the menu. Vegetables that are char-grilled are full of flavour and they look beautiful on the plate too. Corn on the cob cooked on the BBQ is an easy option if you're not feeling confident.
Don't forget the side dishes either. Potato salad, couscous, chips or simple crisps provide extras for your guests to get their mouths around.
Fish works brilliantly on the BBQ too. Add salmon stuffed with lemon, dill and seasoned with pepper to impress your guests.
Don't forget the drinks! Plenty of beers, wines and cider for the adults and juices for the kids. Make sure there are chilled bottles of water too.
Share your favourite BBQ tips with us over on Twitter.