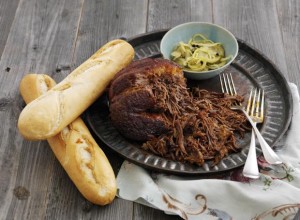 Euro 2016 kicks off on June 10th, with the first England game being played on June 11th. Many of us will be huddled around our TV screens watching the drama unfold.  The beers will be flowing but what about the food? If you're having friends and family round you'll want to give them something more than crisps and dips. We've found three excellent recipes that are perfect to enjoy while watching the footy.
Chilli Feast
Chilli makes a great meal and it always goes well with a few drinks. Here's a really easy recipe for spiced Hereford beef and chilli that can serve up to 32 people and only takes 12 minutes to cool.  This chilli doesn't require bowls or cutlery; it's easy to eat finger food that tastes incredible. You'll need 675g of lean sirloin or rump steak for this recipe, click here for the full ingredients and method.
Hereford Pulled Beef Brisket
The pulled beef tastes so good served in a baguette but you can also make a meal of it if you're hankering after some mash and veg. Our pulled beef brisket recipe serves 8 people and takes 3 hours and 30 minutes to cook. The slow cooking processes results in tender meat that is simply divine. Here's the recipe and the full list of ingredients for this beef recipe.
Nachos and Cheese
Finally you really can't beat serving nachos and cheese dip when you've got all your mates round.  The nachos also go perfectly with the recipes we've mentioned above and they only take a few minutes to cook. Perfect! Serve with soured cream or guacamole (which also goes perfectly with the pulled beef brisket).  Click here for the ingredients and the method.
Tag us, @HerefordBeefUK in your foodie pics on Twitter and we'll retweet our favourites.