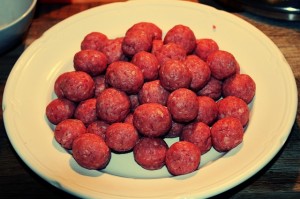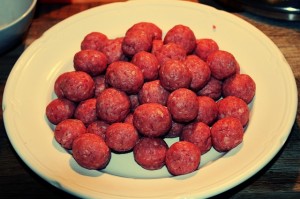 Hereford Beef Meatball Recipes
Hereford Beef meatballs can be found at many different retailers such as Waitrose and the Cooperative, or you can make your own using Hereford Beef mince. If you've never made meatballs yourself try the Jamie Oliver meatball recipe and use 500lb of mince to make 24 meatballs that you can use immediately or pop in the freezer to use throughout the month. Once you have your meatballs why not try one of the two recipes below.
Beef Meatball and Guinness Stew by Waitrose
This hearty stew can be made using shop bought or homemade meatballs and it can be frozen. It's a good idea to make a large batch so you're able to freeze half to use on another day to save yourself cooking from scratch. The recipe also states that this stew tastes even better on the next day, so you certainly get plenty of meals out of one recipe!
It takes just 25 minutes to prepare and 1 hour 20 minutes total cooking time and will serve up to 8 people when you use the Beef meatball and Guinness stew ingredients listed here, just remember to double up if you want to make extra.
Pappardelle and Meatballs by John Torode
This meatball recipe is cheap and easy to make yet delivers a meal that will leave you fully satisfied. It's a great recipe that serves up to six people and takes between half an hour to one hour to prepare and cook. The ingredients and method for the pappardelle and meatball recipe can be found here.
We'd love to see what you cook up using your Hereford beef neatballs. Come and show us your creations on our Facebook wall or tag @HerefordBeefUK on Twitter and Instagram.