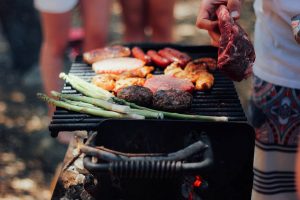 Most of us have enjoyed glorious weather so far this week, and the weekend is looking promising. It's the perfect time to head out into the garden. Invite some of your favourite people over and enjoy some good food with a Great British barbecue.  You don't need much to cook decent dishes, so long as you have the best ingredients and some time, you can't really go wrong.
Clean Up Your Gear
Most people leave the BBQ covered in the garden or in the shed when it's not in use. You don't need to buy anything new unless it's covered in rust.  You can clean grills using baking soda, a wire brush, and some elbow grease. However, if you see loose rust it's best to replace it for health reasons.  You could also make your own grill very easily using:
A few bricks
A cast iron grill
Some wood
Good quality charcoal
You could always go for something a little more modern if you prefer. There are a wide variety of barbecues now available.
Delicious Recipes for the Barbecue
Foil Wrapped Baby Potatoes
Don't fill up on bread rolls; serve up some perfectly cooked baby potatoes. They taste fantastic when cooked on the grill. Put the potatoes in a pan and boil for 5 minutes.  Drain off the water and place in some foil and coat in oil and season. Then it's just a case of popping on the barbecue for 10 minutes and they're ready to serve. Here are the full cooking method and recipe to serve 6 people.
Black and Blushing Worcestershire Fillet
You'll need to prepare a little to serve up this fantastic dish. Visit your butcher and ask for 600 piece of Hereford fillet steak, enough to feed 4 people. The beef will need marinating overnight in Worcestershire sauce, olive oil, mustard and a few sprigs of rosemary. The beef will take around one and a half hours to cook on a preheated barbecue.
What's your favourite recipe for the barbecue? Come and show us your BBQ photos and recipes on our Facebook page.