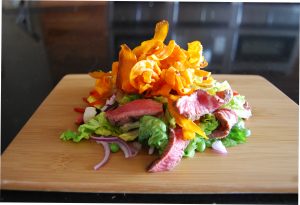 The warmer weather is gracing us with its presence already. It's time to dash on the sunscreen and let the body absorb some precious Vitamin D. We can't let this weather go to waste! One problem with the warmer weather is that it can reduce appetites, especially when the weather creeps up into the mid-twenties. With that in mind, we're sharing three easy and delicious beef salad recipes that work perfectly with Hereford beef.
Summer Beef Salad from Australia
Australians know how to deal with heat, so this is the perfect beef salad to dish up when the temperatures soar. This recipe serves up to 4 people, takes 15 minutes to prepare and only 10 minutes to cook. It's so easy that even the most novice cook will have no difficulties in the kitchen. Ask your butcher for 2 Hereford beef rump steaks, weighing 500g in total. Pick up some Dijon mustard with tarragon to use for the Tarragon Mustard Vinaigrette from the supermarket and some green beans, baby salad leaves, and spring onions from the grocery. Click here for the complete list of ingredients and the method.
Roast Beef Salad Platter
Here's a recipe that is the perfect alternative to a traditional Sunday roast beef dinner. It looks as delicious as it tastes too. It does take a little longer to prepare from scratch, but you can always make this dish using leftovers to save some time the following day. Ask your butcher for a 700g piece of Hereford beef fillet. You'll also need some red onions, floury potatoes, small beetroots, green beans, mixed salad leaves, mustard and balsamic vinegar. Click here for this irresistible recipe and list of ingredients.
Hereford Roast Beef Sticky Pancakes and Salad
Another beef salad that works wonderfully with left over roast dinners is our roast beef sticky pancake recipe. Our version of this popular Chinese dish uses 1.3kg of lean topside, sirloin or silverside Hereford beef. Save yourself some time by using ready prepared Chinese pancakes. There are several ingredients that are used to build up the appealing flavours, including red wine or sherry vinegar, Chinese 5 spice, cloves, coriander, mint and Worcestershire sauce. Visit our roast beef sticky pancake recipe page for the full list of ingredients and method, here.
Which beef salad is your favourite? Tag @HerefordBeefUK or use the hashtag #HerefordBeef to show us your culinary creations with Hereford beef.