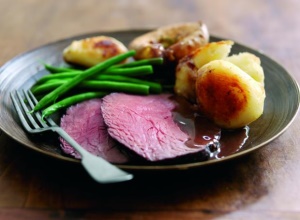 Feel like dining out? Here's a very small selection of the restaurants where you can find Hereford Beef on the menu.
The Convenience has everything you could want, an impressive beer, ale and wine list, cocktails along with many tasty Hereford Beef dishes. Currently on the menu you can treat yourself to:
Hereford Beef Burger, Rocket, Strawberry Chilli Jam and Pickled Courgette
Hereford Sirloin Steak and Green Salad
If you're planning a Christmas Party you'll also find Hereford Steak with Chips and Snips on the menu too.
@TheBurgerAddict currently available @TheConvenience in Clapton. It's a beast. #burger #herefordbeef #popup pic.twitter.com/fJCad2iA95

— Farmer Tom's Kitchen (@Farmer_Toms) November 15, 2014
The Foresters are the three time winners of the Surry & South West London Pub of the Year. Can you resist this Roast Ribeye of Hereford Beef? Not sure we can!
Have you had your roast ribeye of Hereford beef yet? pic.twitter.com/d4ugIaOhYk — The Foresters (@TheForestersHW) November 23, 2014

Or how about the pan seared sirloin?
Pan seared sirloin of Hereford beef served with deep fried salsify, green beans, courgette and a wild mushroom sauce pic.twitter.com/49QkWi7NHd

— The Foresters (@TheForestersHW) October 30, 2014
We couldn't resist the look of this classic roast Hereford Beef dish, available at the Anchor Inn.
Roast Hereford Beef, Roast Tatties, Leeks, Kale and Peas. Lovely but of Sunday lunch. pic.twitter.com/P7fm2OHGP5

— The Anchor (@TheAnchorInn) October 19, 2014
Feeling hungry yet?