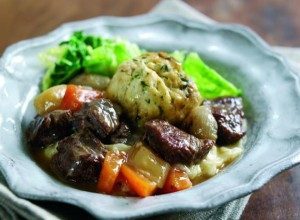 Beef stew often gets overlooked by home cooks who choose other warming recipes such as bourguignon instead. The stew shouldn't be overlooked. Slow cooked stews, especially those made with naturally tender Hereford beef are packed full of goodness and flavour. There's nothing wrong with a delicious goulash, but you really can't beat a British beef stew.  Winter is definitely coming, and it's now time to perfect your stew to treat your family to this classic dish.
Basic Beef Stew
Stew begins life by browning off the beef in fat to add some flavour. You then add the other ingredients of your choice (or what's left in your fridge and cupboards) before covering in liquid and leaving to cook at a low heat until the meat is perfectly tenderised. Finish off by adding a bit of flour to the liquid to thicken up the gravy and serve.
Choosing the right type of beef will add quality to your dish. We recommend using Hereford beef shin but the top shoulder stewing steak is also good. The great thing about Hereford beef is that it comes naturally marbled and the fat melts during the slow cooking. The melted fat adds even more flavour to the stew and makes tasty delicious gravy. Ask your butcher to trim the shin for you to remove any sinew from the outside of the beef.
Water, Beef Stock or Stout
Add some red wine to your stock for the fullest flavours, but only if you are a fan of red wine! You can do away with the wine and even replace the stock with water if you want. However, the beef stock will make thicker, tastier gravy. Alternatively, use stout as a replacement. You can use stout on its own but for the best results we recommend using half stout and half stock.
Why not replace potatoes with something a little more traditional. Dumplings are perfect for soaking up the gravy and really filling up your tummy. Suet dumplings are best when added to the stew for the last half an hour of cooking time.  Add different flavours with any of your favourite root vegetables, but turnips are a great alternative to parsnips if you don't like your stews to be too sweet.
Simmer Your Beef Stew Before Serving
Don't forget that the beef stew will need to be simmered before serving.  Simmering will help to break down any of the collagen that slow cooking fails to do (this will also depend on the beef that you use).Simmer your stew and you should have no chewy cuts in the dish.
Try our beef stew recipe, add your own twists and you'll soon become a master of this fantastic winter dish.