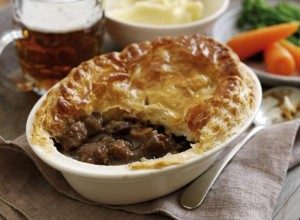 November is the time to start cooking those warming family favourite dishes. These are the recipes that provide plenty of nutritional value and warm up cold bones. These are the dishes that many of us consider to be the best comfort foods. Served with potatoes and plenty of vegetables, we are left with full tummies and warm toes.
November is also an excellent month for home cooks as many of our favourite foods are now at their very best. Local grocers and supermarkets have plenty of locally grown vegetables to help us all serve the best dishes possible.
Our Favourite Seasonal Foods
Here's a quick look at some of November's best seasonal foods.
Brussel Sprouts
Cabbage
Chestnut
Celery
Celeriac
Kale
Parsnip
Pumpkin
Runner bean
Swede
Sweet potato
Turnip
Hereford Beer Beef and Chestnut Pie
Here's one of the most delicious recipes to cook during November and the following colder months to follow. Hereford beer beef and chestnut pie is a pub classic that also tastes delicious at home. It uses slow cooked boneless Hereford beef shin along with your favourite stout, chestnuts, mustard and onions. Top the pie off with puff pastry and you have  a warming and delicious pie to serve up to four people.  Find our complete list of ingredients and the method by clicking here to visit our recipe page.
Show off your homemade comfort foods by tagging @HerefordBeefUK in your photos on Twitter and Instagram.