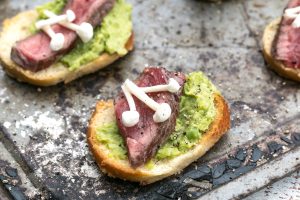 How will you be celebrating New Year's Eve? Throwing a party or planning a night in? Regardless of your plans, it's always lovely to indulge in some delicious nibbles and perhaps a drop of your favourite beverage. We have a selection of irresistible beefy bites that are ideal to serve on any special occasion.
Salt Beef on Rye Bread from BBC Good Food
This canape recipe is a twist on traditional Jewish salt beef. They don't take long to put together, so you'll have plenty of time to get ready or just relax in front of your favourite movie.  The recipe makes enough for 18 canapes and they only take 10 minutes to prepare, there's no cooking time. Click here to be taken to the recipe and method.
Hereford Beef Canapes with Truffle Pea Puree
We have a delicious canape for you to serve to your family and friends. It's easy to make but very tasty and impressive. The pea puree is made from either frozen (but defrosted) or fresh peas but you will need 1 to 2 tablespoons of truffle oil. Click here for the complete recipe and list of ingredients.
Chilli Con Carne with Popping Kidney Beans from Jamie Oliver
You need 500g of minced beef (Hereford beef mince is ideal) and 500g of high welfare minced pork. The complete list of ingredients and cooking method can be found, here.  This is a filling recipe that is not too difficult to make and it serves up to 10 people. This Chilli is perfect for cold days and to fill up your tummy before indulging in a few drinks, or for when you get home from a party.
Hereford Pulled Beef Brisket
Warm up a few baguettes and serve with some slow cooked pulled beef brisket.  It does take 3 and a half hours to cook and serves up to 8 people. Put it on to cook and then spend time getting ready or chatting with your guests. Here's the complete list of ingredients and the method.
We would like to thank you for all of your support over the last 12 months. We wish you all a Happy New Year and look forward to 2017!
---