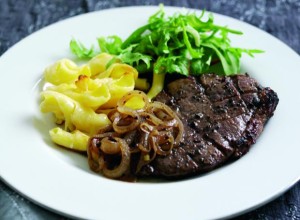 Saturday is Valentine's Day and many home chefs will be treating their loved ones to a romantic Hereford Beef steak dinner for two. We have many steak recipes here on Hereford Beef but what should you be serving as the side dish?
Potatoes
We all know that steak and chips is a classic combination, but what if you fancy doing something a little extra special?
Sweet Potato Fries – Sweet potato is considered to be a healthier alternative and has a delicious sweet flavour, especially when cut into chunky wedges and baked in the oven. Serve with a selection of roasted vegetables as an alternative, such as peppers, tomatoes and green beans.
Dauphinoise – If you have the time then consider spending a couple of hours to produce this side dish that is essentially a layered potato bake.
A Bit on the Side
Curly Kale – if you don't want to be weighed down by a heavy meal we recommended making Curly Kale fries. Add some oil and salt and cook in the oven for a healthy alternative to chips or as an extra side dish.
Mushrooms – Steak and mushrooms always go together well; serve them roasted, creamed or devilled and you won't be disappointed.
Onion Rings – Believe it or not BBC Good Food reported that onion rings were the most searched for term on their website on Valentine's Day 2012. You can fry onion rings or bake them if you're trying to be a bit healthier. Great finger food that will compliment your steak perfectly.
Let's get Saucy
There are so many sauces to choose from, such as the Bearnaise sauce and Hereford Steak recipe found here, but we have a few other suggestions that may make your mouth water.
Shallot and Red Wine Reduction – give your dish a professional edge making the most of all those delicious steak juices.
Pizzaiola – Italian inspired romance on Valentine's Day could be a winner.
Weeping Tiger Dressing – If you love some spice with your steak then the weeping tiger dressing is the one for you, but you might want to steer clear of it if you're not a fan of too much heat.