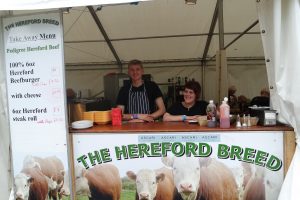 Champion Hereford Bull Ronaldo returned home by helping launch this year's Royal Three Counties Show at the Hereford Cathedral.  Hereford was showcased at the show in a delightful display that showed visitors what was available in the county. Close by Ronaldo was admired by visitors who were impressed with his size and majestic personality. Ronaldo is a representative of the Weston Ciders Bound Herd who represented the finest in agriculture.
The launch of the Three Counties Show wasn't the only special outing for Ronaldo this year. He went to Wembley on May 22, 2016, for the non-league finals day where he carried out his duties as mascot for Hereford FC.   The five year old Hereford Bull is much loved by the fans and has the instantly recognisable features that make Hereford Cattle so unique.
The Royal Three Counties Show was hugely successful, with over 90,000 visitors to the showground. HRH Princess Royal and The Kings Troop Royal Horse Artillery were also in attendance. Each June the show celebrates British Farming and offers entertainment for the crowd and an excellent selection of food, drinks and stalls.
Did you attend the show and give Ronaldo a gentle stroke this year? We'd love to see your photos on Facebook and Twitter.