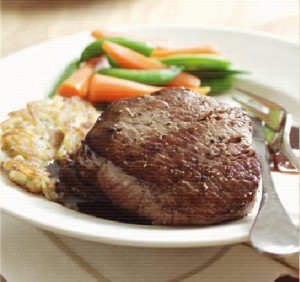 Beef fillet is referred to as the king of the cuts of the king of meats. In order to get the best results, it's important to select beef that has been raised well and hung, making Hereford beef fillet ideal to choose. With Hereford beef fillet it's possible to achieve tenderness and flavour that's hard to beat. Here are three beef fillet recipes to try at home.
Beef Fillet with Blue Cheese Mousse by Marcello Tully
This recipe is the perfect combination of blue cheese and beef. It's indulgent and hearty and you're going to feel fully satisfied at the end of dinner.  You'll need 6, 160g beef fillets from your butcher. The beef recipe serves 6 people, it takes 2 and a half hours to cook and the cooking method can be found by clicking here.
Beef Fillet, Watercress and Nasturtium Puree, Bone Marrow and Red Wine by Adam Simmonds
This is a recipe for confident cooks. It takes 2 hours and the recipe will serve four people. Ask your butcher for 28 day hung Hereford beef fillet that weights 2kg. Click here for the full recipe and cooking method.
Beef Fillet in Burnt Hay with Smoked Bone Marrow by Christoffer Hruskova
You can use beef fillet or venison for this Scandinavian inspired recipe.  This dish takes an hour and a half to cook, serves 4 people and is ideal for confident cooks.  Ask your butcher for 800g of beef fillet, or visit your local farm shop as you'll also need 500g of hay. Click here for the recipe and list of ingredients.
Looking for more fillet of beef recipes? Check out our recipes and don't forget to tag @HerefordBeefUK in your foodie pics on Twitter, Facebook and Instagram. We always love to see your creations.