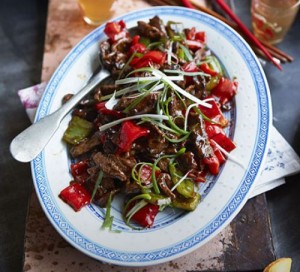 Spring is such a refreshing season, a time for new life and some new recipes too. Here are some of our favourite spring recipes that we hope you'll enjoy trying out in your own kitchens over the next few weeks.
Stir Fried Beef with Oyster Sauce
This is a classic Chinese recipe by Ken Home. All you need to do is marinate some slices of lean beef steak, throw them in a pan with some red pepper and a savoury sauce and serve to your hungry friends and family. It's really easy to cook, serves 4 people and takes no time at all. The perfect recipe perhaps? Click here for the list of the ingredients and the method.
Beef with Asparagus, Hogweed, Radish and Parmesan
Marcus Wareing uses young seasonal hogweed, which is both stunning and unusual at the same time. Please don't confuse young hogweed with giant hogweed, as the latter can cause a bad skin reaction. You'll need 800g of beef fillet for this recipe. The other ingredients can be found here.
Navarin of Beef with Spring Veg
Ask your butcher for 500g of diced Hereford beef and produce something a little bit different for your family. Use seasonal vegetables including asparagus, broad beans and turnips along with some scrubbed and halved new potatoes. You're going to love this recipe, find all the ingredients and the method by clicking here.
Do you have a favourite spring time beef recipe? Come and share yours with us over on Twitter or Facebook.