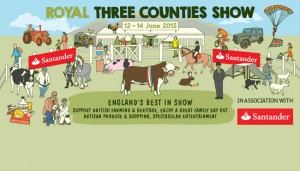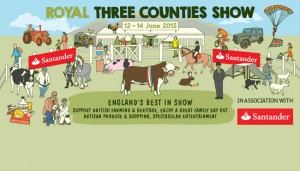 If you're looking for something to do this weekend, why not pop along to the Three Counties Showground in Malvern and spend a day at the Royal Three Counties Show. This annual agricultural show has something for all the family, everything from fairground rides to the kids to award winning livestock including Hereford Cattle of course. You can even sample a Hereford Beef burger while you're there. It's a wonderful way of supporting British Farming and our heritage, with plenty of entertainment on offer and don't forget all the animals.
Adam Henson will be there today (Friday 12th June, 2015) and on Saturday the special guest will be Olympic Gold Medallist, Carl Hester. Children can spend the day getting to know all the different farm animals and the adults can enjoy plenty of regional food and relaxing at the popular Weston Cider Bar.
We're going to be exploring the show, so don't forget to look out for the Hereford Cattle Society and the impressive livestock on display at the Farming village, with 3000 exhibits competing to be crowned the Champion of Champions. Other highlights include the national goat and the national sheep show and Carl Hester performing dressage to music on Saturday. If you love to garden make sure you take in the International Orchid show too.
The weather isn't expected to be the best sadly, with rain on the cards for Saturday morning, but that's never stopped the fun before and it won't this year either. Just remember to bring a coat and perhaps a pair of wellies (although you'll certainly be able to buy some there if you do get caught without). The entertainment will go on and there's plenty of shopping to be done too, you'll find everything from sheep skin rugs to tractors or top of the range hot tubs.
We hope to see you there!  If you can't make the show you'll be able to find out where we'll be by clicking on our events page here.