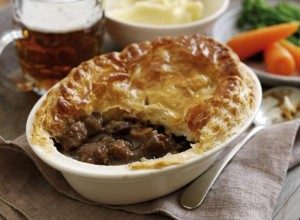 Pies are the perfect comfort food. They work well whether they're served with chunky chips or mash potato. They're filling, versatile and tasty, it's the perfect dish to cook for your family, especially on colder days. Today, we're sharing three of our favourite pie recipes for you to try at home.
A Simple Steak Pie
Here's a recipe from John Barrowman. Using ready-made pastry is the perfect way to reduce the preparation time to less than half an hour. The recipe takes 2 hours to cook and serves four people.  Ask your butcher for 900g of Hereford beef stewing steak that's cut up into small cubes. You may also be able to find Hereford beef at your favourite supermarket's meat counter. Check here for a list of Hereford beef retailers.  Don't forget to pick up your ready rolled shortcrust pastry too. Here's the full list of ingredients and the recipe.
Hairy Bikers Steak and Ale Pie
We love that the Hairy Bikers are fans of Hereford beef. They know their meat and they also create delicious home cooked food. Here's their recipe for the traditional steak and ale pie. It takes a little bit of effort but the result is worth it.  Ask your butcher for 900g of diced Hereford beef stewing steak and your pie will be tender and full of flavour.
Hereford Beer Beef and Chestnut Pie
Here's a tasty classic that requires boneless beef shin.  The pie is topped off with a layer of puff pastry, pure heaven. Click here for the ingredients and the recipe, which requires 450g of cubed lean boneless Hereford beef shin.  It serves four people and takes 3 hours and 10 minutes to cook.
Don't forget, we'd love to see your home creations. Share photos of your Hereford beef pies with us on our Facebook page or by tagging @HerefordBeefUK on Twitter or Instagram.