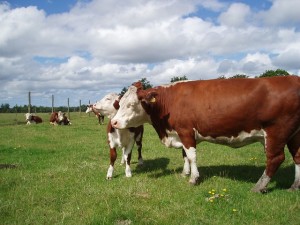 What are the health benefits that come from eating grass-fed beef such as Hereford Beef?
Beef has a high nutritional value thanks to the fact that it's a source of high quality protein; it contains all the amino acids, plenty of B vitamins, zinc and iron.
Beef has mono-unsaturated and saturated fats that are believed to help protect against heart disease.
Hereford Beef is a great source of omega 3 fatty acids and conjugated linoleic acid, which have shown to reduce the risk of diabetes, some immune system disorders, obesity and the risk of cancer.
Sourcing Hereford Beef
Hereford beef is grass-fed, ensuring the cattle live a healthy and stress-free life and providing you with the best nutritional beef possible. Hereford beef is now found in many of the leading supermarkets in the UK, but if you can't find it in your local store checkout our list of farm shops, butchers and online suppliers.
Hereford Beef Recipes
We have plenty of Hereford beef recipes to help inspire you in your kitchen. Read through our blogs for some of the most popular recipes from around the web and from our favourite chefs and visit our recipe pages and try some of our Hereford beef dishes out at home.