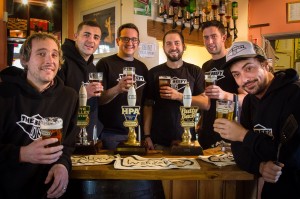 The Beefy Boys have done Hereford proud on the international stage once again, showing the world just how good their burgers really are.
The Beefy Boys flew all the way over to represent the UK at the World Burger Championships in Florida. This was their second time competing after being named the second best burger team at the Las Vegas Food Championships.  At this year's event, which took place on the first weekend of November, The Beefy Boys ranked 2nd in the signature round for their signature burger The Beefy Boy World Eater and they came in 7th overall after reaching the Top Ten Burgers in the World for the second year running.  It's now their mission to bring home the trophy in 2016.
Before flying out to Florida, The Beefy Boys also enjoyed a win at the UK Burger Awards, taking the crown for the People's Choice Awards at the UK Burger Battle in Birmingham for the second time.
We're so proud of the boys who show their love for Herefordshire by showcasing local foods, including Hereford beef, in their delicious burgers. If you'd like to try your hand at making award winning burgers at home we recommend you check out The Beefy Boy's Top 5 Burger Tips found here. Don't forget to follow The Beefy Boys on Facebook for all their latest news and to keep an eye out for their grand opening of their gourmet burger restaurant, opening next to Costa at the Old Market development soon.