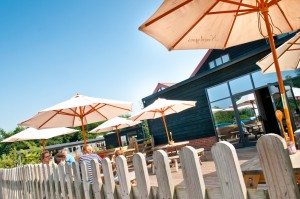 Newlyns Farmshop is just one part of the beautiful Newlyns Hampshire Farm.  The family run farm has been producing great food for four generations. On the farm you'll find the farm shop, farm café, cookery school, gift shop with seasonal plants, gifts for the garden and vintage furniture. It's a great place to visit and find inspiration before picking up your food.
The award winning Newlyns Farmshop sell produce from their purpose built shop where you'll find home produced meat, fresh fruit, veggies and there's plenty of choice available at the delicatessen counters. The meats are available from their butchery department. All meat is reared on the farm and comes from their traditional mixed farm.
You'll have a choice of the finest beef from their Hereford cattle.  Herefords are known for their longevity. The females commonly produce calves and live well over the age of 15, while the bulls are able to remain profitable at stud until they reach 12 and even longer.
Other Offerings from Newlyns Farmshop
Newlyns bespoke hampers are provided in either a wicker basket or a cardboard box. Simply browse the shop to make your selection of gifts or give the shop a call and discuss your preferences and budget and they will put the hamper together for you.  All information can be found here.
The Newlyns cookery school is located in North Warnborough just above the farm shop. There's a beautiful teaching kitchen that can hold 20 chefs. There are lots of excellent cookery courses available for all levels, from beginners looking to learn the basics to those with more experience hoping to prepare a specialist menu to wow their guests.  More information can be found by clicking here.
Learn more about the amazing Newlyns Farmshop by visiting their website, Liking them on Facebook and following on Twitter.