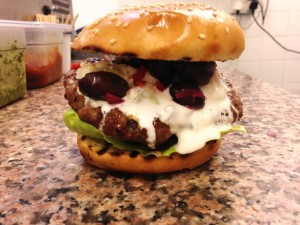 Our October 2015 winner of the Retailer of the Month award has been named as one of the best restaurants tin Worcester by The Culture Trip.  Burgerworks has been delighting customers since they opened at the end of 2014. It's owned by Arvin and Therese Gautama, who serve up delicious gourmet burgers that are made with local and ethical produce, including 100% grass fed Hereford Beef.  The beef is supplied by H. Dayus Family Butcher, also located in Worcester. Once the beef is in the restaurant, it's then hand pressed in house and "chargrilled to perfection".
One of the great things about Burgerworks is that you can eat in or take your burger away with you. You have the choice of toppings, extra toppings and side dishes and salads. We hear the sweet potato fries are scrumptious!
Pick Your Burger
Choose from 100% Hereford Beef, Free range chicken or local lamb. All of the burgers are served in an artisan seeded bun or a gluten free bun.  The burgers are served with red onions, dill pickle, lettuce and tomato. Once you know your meat you can choose from the exciting range of toppings, with options including:
No More Heroes – Homemade chilli con carne
Mamma-Mia – Buffalo mozzarella, tomato and pesto
ABC – Avocado, dry cured smoked back bacon and stilton
You can then pick some extra toppings if you're feeling particularly peckish!
Congratulations to Burgerworks for making the top 10 best restaurants in Worcester! Read the full
list here and learn more about Burgerworks, or book a table, by visiting their website.