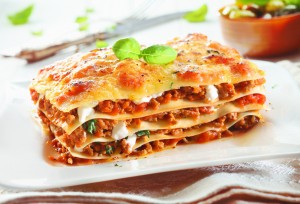 A great lasagne dish with Hereford Beef mince and for an extra twist pancetta and chicken livers.
Serves: 4
Cook Time: 3 hours
Ingredients:
For the Cheese Sauce:
25g/1oz butter
25g/1oz plain flour
425ml/¾pint milk
75g/3oz grated hard cheese, e.g Cheddar
25g/1oz Parmesan cheese, grated
1 x 250g/9oz pack fresh lasagne sheets
For the beef ragù:
450g/1lb lean beef mince
50g/2oz pancetta cubes or streaky bacon, finely chopped
50g/2oz chicken livers, roughly chopped
1 red onion, peeled and chopped
2 large garlic cloves, peeled and crushed
1 celery stick, finely chopped
1 carrot, peeled and finely chopped
1 small sprig fresh thyme
1 x 400g can chopped tomatoes
300ml/½pint good, hot beef stock
5ml/1tsp caster sugar
30ml/2tbsp tomato purée
100ml/3½floz good red wine
1 bay leaf
30ml/2tbsp freshly chopped flat-leaf parsley
5ml/1tsp freshly grated nutmeg
Salt and freshly milled black pepper
Method:
Heat a large non-stick pan and dry fry the mince with the pancetta and chicken livers for 3-4 minutes until brown, breaking up any lumps with the back of a spoon. Transfer to a large bowl. Cook the onion, garlic, celery and carrot in the same frying pan for 2-3 minutes.
Add the remaining ragù ingredients, bring to the boil, reduce the heat, cover and simmer for 1 hour, stirring occasionally. Remove the bay leaf and thyme sprig.
Meanwhile, to make the cheese sauce; heat the butter in a non-stick pan until foaming then whisk in the flour. Remove the pan from the heat and slowly add the milk, return to the heat and cook until thickened, stirring continuously. Add the cheese and season if required.
Preheat the oven to Gas Mark 5, 190°C, 375°F. Place a layer of lasagne sheets in the base of a 25cm/10inch square ovenproof dish. Spoon half the ragù mixture over the pasta then half the cheese sauce. Repeat with another layer of lasagne and ragù, then finish with a final layer of lasagne sheets and sauce. Sprinkle the Parmesan cheese.
Bake in the oven for 30 minutes and serve with a mixed salad and garlic bread.