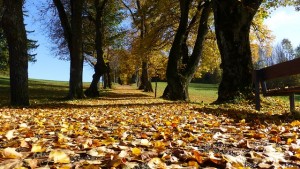 After a rather disappointing summer weather-wise, we are now beginning to feel the chill of autumn in the air. Social media is full of people complaining about putting the heating on already and the evenings getting darker earlier and earlier each day.  There's a definite chill in the air so we thought we would share some of the most popular cosy autumn recipes that will help to warm up cold bones at the end of a busy day.
This cowboy inspired chilli con carne has a rather unusual ingredient, hot coffee.  The coffee adds an intense depth of flavour and is used to help tenderise the meat. If you want really render beef (who doesn't?) remember to ask your butcher for 2kg of Hereford Beef Brisket and to trim it to 2.5cm pieces across the grain, this will make your chilli taste fantastic and save you a job in the kitchen.  Find the entire list of ingredients and the method by clicking the here.
Put on your raincoats and go and pick your own blackberries for this delicious recipe from Michelin-starred chef, Adam Gray.  It's easy to make and is full of autumnal flavours, ideal for after a delicious Sunday roast or to cheer the kids up after a cold day at school.  The recipe calls for 200g of blackberries (you can always use frozen from your local supermarket if you don't have access to any growing in the wild).  Find the rest of the ingredients and the recipe by clicking here.
This is one of our recipes but it really cannot be beaten on a chilli day. You'll need 500g of Hereford Beef mince, available from multiple retailers, and if you want to add even more flavour add pancetta and chicken livers for the best lasagne ever! Click here for the full list of ingredients and cooking method.
If you're a huge fan of this time of year why not treat the family to a day out at the Three Counties Showground for the Autumn Show in Malvern. You'll find plenty of autumnal inspiration including seasonal foods, plants and crafts.
Do you have a favourite autumn recipe? Come and share your recipes with us over on Facebook or Twitter.