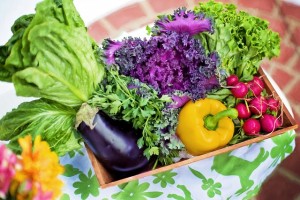 Organic September is here! The Soil Association is asking everyone to take part in their 'Small Changes, Big Difference' campaign and they are using the entire month to try and educate and encourage everyone to make a switch, no matter how small it is. We have a few ideas to help you step away from supermarket brands and processed foods and replace them with organic alternatives.
One of the easiest ways is to start with an organic box. There are plenty of farms around the country that provide an organic box delivery service. Some are able to offer organic and locally produced vegetables, fruits, meats, dairy and more. We have a list of retailers that provide organic boxes, including organic Hereford Beef, just click here for details.
Swap your usual milk for organic and benefit from the higher level of nutrients and knowing that the livestock are free from routine drugs and antibiotics.
Replace kitchen essentials with organic alternatives as you run out. For example: organic flour, organic olive oil, organic pasta and organic mustard oil. The gradual swaps help to reduce the costs and ensure no food or cooking products go to waste.
Cook an organic Sunday roast for the family.
Buy seasonal vegetables and make a homemade soup.
Use organic fruit to make a healthy smoothie.
There are many reasons to make the change to organic foods.
Hundreds of pesticides are used in non-organic farming and also found in non-organic foods. These pesticides are potentially dangerous for us and you can reduce your exposure by changing to organic.
Organic animals enjoy a free range life, making them healthier and happier too. Organic Hereford cattle eat lush grass from the pasture and can be fully traced from pasture to plate.
Plants, birds and insects are more abundant on organic farms so by supporting organic farmers you're helping to protect wildlife.
Organic food producers are inspected to ensure the standards of their food meets those laid out under European Law. You can trust the producers and know what's in the food you're eating and serving your family.
Will you be taking part in Organic September?