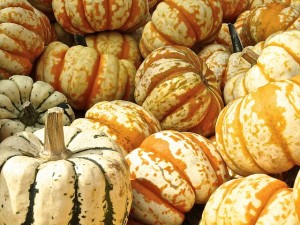 Autumn has officially arrived and now is the perfect time to start cooking with your home grown (or shop/farm bought) vegetables and fruits. Autumn is the season for:
Wild mushrooms
Aubergines
Savoy Cabbage
Apple
Blackberry
Butternut Squash
Cabbage
Carrots
Pears
Onions
Potato
Leek
Kale
Spinach
Turnip
Pumpkin
Everyone is sick of hearing about Starbucks Pumpkin Latte but that doesn't mean we have to ignore pumpkins and how tasty they can be.  With Halloween just weeks away the chances are a lot of you will have pumpkins in the home; instead of simply carving it and throwing it away we thought we'd share some of our favourite pumpkin recipes to inspire you and reduce waste.
This is a soup that is ideal for colder days; it takes 30 minutes to prepare and 45 minutes to cook. You'll need 250g of Hereford beef skewing steak that has been cut into small chunks. Remember you can always ask your butcher to dice up the steak for you to save you some time in the kitchen. You'll also need a 500g pumpkin, pealed, rinsed, seeded and chopped up into bite sized chunks, about the same size as the diced steak.  Click here for the rest of the ingredients and method.
This recipe suggests using pork sausages but you can always use beef or any other sausages that may take your fancy. Add 8 large sausages, thick chunky wedges of pumpkin, red onion wedges, a scattering of caraway seeds to a non-stick roasting pan and toss in some olive oil before roasting for 20 minutes. Add some fresh beef gravy to the pan and return to the oven for a couple of minutes before serving with your favourite vegetables. Click here for the exact ingredients and method.
Here's a hearty beef stew that will go down well with some pumpkin beer. Ask your butcher or visit your nearest Hereford beef retailer and ask for 1lb of Hereford beef. The other ingredients are: half a medium sized pumpkin, 4 small onions, 7oz of carrots, 5 cloves of garlic, 12oz pumpkin beer or stout, 1 cinnamon stick, 2 bay leaves and some sugar to taste. Find the recipe and ingredients here.