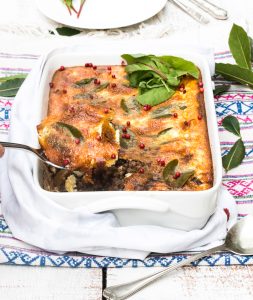 It's that time of year when comfort food is desired and requested by family members. Coming home to a house filled with homely aromas, sitting down together eating a hearty dish and discussing the day, it's such a comforting time of year. Today, we're sharing three delicious beef recipes that are the epitome of comfort food. Visit the butcher, ask for Hereford beef and give these recipes a try at home.
Hereford Bobotie
Shepherd's pie is a wonderful autumnal recipe, but why go with the norm when you can try something new? Hereford Bobotie originates from South Africa and it's just as comforting but comes with a little extra spice and sweetness. This beef recipe requires 800g of Hereford beef mince beef, making it perfect for larger families or special occasions, such as bonfire night.
Find the complete recipe for Hereford Bobotie, here.
Braised Steak with Gravy
The Hairy Bikers make some fantastic comfort foods and one of the popular dishes to try is their braised steak with gravy recipe. The pair also adore Hereford beef, so ask your butcher for 4 Hereford braising steaks to serve 4 people. This is a rich and traditional dish, perfect for colder days.
Find the cooking method and full list of ingredients for the braised steak recipe, here.
Beef and Ale Stew
Jamie Oliver comes up with lots of fantastic family meals and here's another one. The Beef and Ale stew recipe takes some time, 3 hours 20 minutes on average to prepare and cook, but it's so easy. This stew is perfect to put on in the early afternoon, it will fill the house with gorgeous aromas and satisfy even the hungriest tummies.  Ask your butcher for 500g of Hereford diced stewing beef.