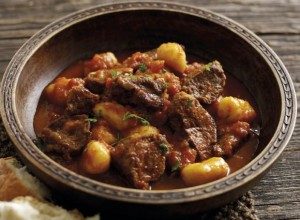 There's nothing quite like warming up with deliciously warm and comfortable foods before, during and after watching fireworks with the family. Here are three delicious bonfire night recipes you can make at home that will be embedded in your happy memories for years to come.
Creamy Tomato Soup
It's easy to open a can of tomato soup but we recommend you cook your own. This recipe is from BBC Good Food. It's easy to cook and one batch will serve 6 adults and 6 children.  Click here for the full list of ingredients and the method. You need half an hour to prepare this dish and 45 minutes to cook. It's a great dish to make with the children to help keep them occupied before the fireworks begin.
Slow Cooked Hereford Beef with Gnocchi
Warm everyone up with this slow cooked casserole full of warming spices such as paprika and cayenne pepper.  The best cuts of Hereford beef to use for this recipe are shin, leg, neck and shoulder.  This is an excellent recipe for a small family. It takes 2 hours 30 minutes to cook, enough time for you to go out to your local firework display before coming home to a wonderful meal.  Find the recipe and list of ingredients by clicking here.
Perfect Jacket Potatoes
Create perfect jacket potatoes. This recipe gives your potatoes crispy skins while keeping the insides fluffy and light.  Give the potatoes a good scrub, pierce the skin and then rub them over with olive oil and salt. Bake the potatoes in the oven for about 90 minutes. Check they are golden brown and slightly soft before you take them out the oven.  You can serve with butter and a sprinkling of black pepper and serve with grated cheese.  Find a simple cooking method by clicking here.