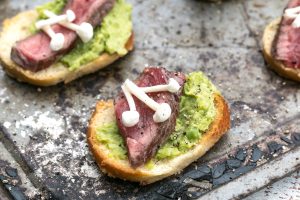 Are you having a Halloween party this year? Don't fill up on sweets. Provide hearty food that will warm up your guests and satisfy their taste buds and their tummies. Here are some of our favourite beefy snacks that are perfect for parties.
This recipe never fails to impress. You'll need some beef fillet off cuts, Crustini and Enoki mushrooms to garnish your dish. To make the truffle pea purée you will need 2 cups of peas (use fresh or defrosted frozen peas if more convenient. The recipe also requires 1 to 2 tablespoons of truffle oil, 3 to 4 tablespoons of olive oil, 2 pinches of salt and pepper to season. Find the complete list of ingredients and the method, here.
Let your guests help themselves to delicious pulled beef served in a baguette with some cucumber and onion pickle.  The cooking time is 3 hours and 30 minutes so pop this on to cook in the afternoon. Shred the pulled beef so it's easy for guests to fill their own baguettes. Find the complete recipe and list of ingredients, https://www.herefordbeef.org.uk/beef-recipes/pulled-beef-brisket/, here.
Halloween falls on Monday, so make excellent use of your roast beef leftovers from the Sunday roast with this delicious snack.  The roast beef is served coated in a sticky seasoning, in rice pancakes with a side salad. Ask your butcher for 1.3kg of lean topside, sirloin joint or silverside. Find the full list of ingredients and the method, here.
Visit us on Facebook and Twitter. Don't forget to tag @Herefordbeef to show us all of your home cooked beefy snacks this Halloween.