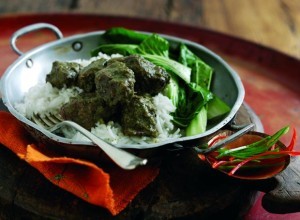 If you follow us on Facebook or Twitter, you'll already know that we've been celebrating National Curry Week. It's the perfect excuse to try a few new Hereford beef recipes and warm up as the evening temperatures drop. As it's Friday night, and we know many of you choose Friday's to be your curry night, we thought we'd share three more beef curry recipes for you to try at home.
Slow Cooked Beef Madras – BBC Good Food
Hereford beef is perfect for this recipe as it is naturally tender, so it will fall apart and treat your palate to succulent flavours.  The recipe serves four people and requires 700g of chopped up stewing steak. The spicy flavours come from the garam masala, chillies, turmeric, cayenne, coriander, madras curry powder, mustard seeds and fenugreek seeds.  Click here for the full list of ingredients and cooking method.
Beef and Sweet Potato Curry – Netmums
Hereford beef is full of naturally occurring omega 3 thanks to their diet of natural green grass, it's also packed full of anti-oxidants. Sweet potato is bursting with goodness too and it counts towards your five a day, unlike normal potatoes. Beef and sweet potato go perfectly together so why not try this delicious beef and sweet potato curry.  Ask your butcher for 500g of either rump or braising Hereford beef and find the whole ingredient list and cooking method here.
Malaysian Beef Curry – Jamie Oliver
This is the perfect curry recipe to try if you're not afraid of using spices. It's bold, rich and the perfect meal to enjoy on a chilly autumn or winter evening. Perhaps this could be waiting for you all to enjoy after trick and treating or watching the fireworks on November 5.  Jamie's recipe serves 8 people and calls for 1kg of trimmed beef topside, cut up into 4cm pieces. Find the full ingredients and cooking method here.
Now you have the recipes all you need is the Hereford Beef.