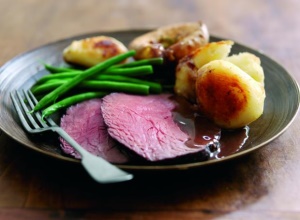 You can certainly enjoy roasts all year round, but they really seem to come into their own during the colder months. The art of knocking up a Sunday roast Hereford beef is something that needs to be passed down the family, but not everyone has been given guidance.  We thought we'd share a few tips for new cooks or those looking to improve their roasting skills, once and for all.
There are a few joints of beef that are perfect for roasting, rump, topside, sirloin, fillet or a rib of beef.
When you're looking for beef always check the colour, you want it to be a dark red, like Hereford Beef. The colour is a sign that the beef is matured and has been hung well.
Beef should also have a good layer of fat, which prevents the meat from drying out. Marbling is also desirable, as found in Hereford Beef, as the thin lines of fat prevents the meat from drying out during cooking, ensuring succulence and beautiful flavours.
The weight you need will depend on the number of people you're feeding and how much leftovers you'd like for cold cuts and roast beef sandwiches. A 1.5kg boned joint will feed 6 people, while a 2.5kg joint with the bone in will feed the same amount.
Remove the joint from the fridge half an hour before you put it in the oven.
The perfect cooking temperature will vary depending on who you ask, however, a good starting point is cooking the joint on Gas Mark 7 for half an hour before dropping the temperature down to Gas Mark 5 for the rest of the cooking time.
For a rare roast cook the meat for 20 minutes per lb and an additional 20 minutes.
For a medium roast, cook the meat for 24 minutes per lb plus an additional 25 minutes.
For a well done roast, cook the meat for 30 minutes per lb and an additional 30 minutes.
Rest the meat by removing it from the over and covering it with some aluminium foil and putting it to the side for a minimum of 15/20 minutes. The fibres will relax and you'll be left with a tender roast that will melt in your mouth.
If you need some more help, please try our recipe for the perfect Hereford roast beef with all the trimmings.