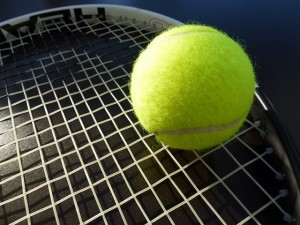 The tension is beginning to mount as we prepare to enter the second week of Wimbledon. This is where the fun really begins, more highs and lows are coming and we're going to need plenty of snacks to see us through all the rallies yet to come. Here are a few ideas for you to prepare in your kitchens in the week ahead.
BBC Good Food has the perfect recipe for these gorgeous individual deserts that can be enjoyed at home or packed away for a picnic. Making your own jelly is a lot of fun; you just need gelatine and a bit of patience while you wait for it to set. This recipe requires some Pimms, strawberries, apple juice, golden caster sugar, gelatine leaves, mandarin segments, semi-skimmed milk, and some single cream. Cucumber slices and mint sprigs are optional. Find all the ingredients and the method here.
This recipe is perfect for the final as it's a great summer twist on the traditional roast. The joint (choose from topside, silverside or a sirloin joint) is marinated in rose wine with sprigs of rosemary, olive oil, garlic and bay leaves. Alfresco Hereford beef is delicious served up with some corn on the cob and a new potato salad. Find the ingredients and the method here.
Roast Herefordshire Beef Rolls
The Hairy Bikers love Hereford beef and we love this recipe for Hereford beef rolls served with homemade creamed horseradish. You'll need to ask the butcher or visit the meat counter for a 1kg sirloin of Hereford beef. Don't forget the bread rolls and the gem lettuces while you're there. Find the recipe for the roast beef and the horse radish sauce here.
The beef platter calls for a 2kg of beef sirloin but will serve up to 12 people. Cook the joint until it's rare and serve with a chilli, pine nut and parsley dressing making it the perfect addition to a family buffet – just let everyone help themselves. The ingredients and recipe can be found here.
Strawberries and Cream
You can't watch Wimbledon without devouring strawberries, it's tradition after all. All you need are strawberries and cream, but if you fancy something different why not try soaking strawberries in Pimms and serving with ice cream or adding some strawberries to a homemade Victoria sandwich.