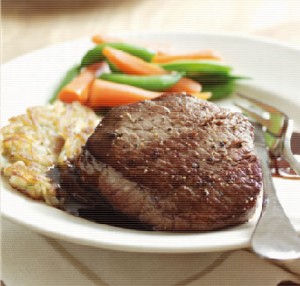 Whether you're buying Hereford Beef to cook with in your own kitchen, on the barbecue or to serve to your paying guests, it's good to know why you're making such a good choice. Here are just a few reasons why you'll feel confident in your decision.
Benefits of Buying Hereford Beef
Quality is the main focus of Hereford cattle farmers, not quantity. The cattle enjoy a natural life of grazing on fresh pastures and their natural calm and docile nature only adds to the quality of the beef.
Marbling occurs naturally in Hereford beef. The layers of fat create the natural succulence and create beef that is deliciously tender thanks to the natural juices as a result of the melting marbling during the cooking process.
Hereford beef are fully traceable. Dine with confidence knowing that the cattle have enjoyed a quality life to produce quality beef and they can be traced back to the farm where the cattle were raised.
When buying Hereford Beef you are supporting local farmers and supporting British farmers.
You can help support local retailers such as your butchers or farm shop buy choosing to buy your Hereford beef directly through them. Farm shops often hand rear the cattle on their farm too, ensuring the beef us hung and butchered on-site, giving you access to the very finest meat.
Many supermarkets now stock Hereford Beef at the meat counter and pre-packed, so even if you can't find a local supplier you should be able to gain access to this wonderful meat, week in and week out.
If you're having trouble finding Hereford Beef, please take a look at our list of retailers (including online ordering and home deliveries) and our list of wholesalers.