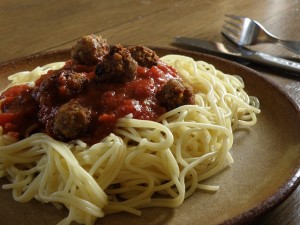 Unfortunately we aren't blessed with living in a part of the world where the summer is always sunny. We're not guaranteed weeks of beautiful barbecue weather (which is why we rush out to buy the charcoals as soon as we get a glorious day), so it's a good idea to think up a few meals that you can cook with the children when the rain begins to fall. Many parts of the UK are expected to have a wet weekend so here's a recipe that will be ideal.
Hereford Beef Meatballs and Spaghetti
For this recipe you'll need to ask your butcher for 225g of ground sirloin. This is the leanest ground beef that's full of flavour and will produce the tastiest meatballs. Add the beef to one slice of coarsely grated brown bread, one chopped Portobello mushroom, a tablespoon of chopped garlic, 3 tablespoons of fresh parsley, one egg white and season with salt, pepper and nutmeg. Combine this together in a food processor, gently pulsing to retain texture, before making your 20 meatballs and placing them on a plate.
Add a dash of oil to a saucepan over medium heat and add one chopped onion and 2 cloves of chopped garlic. Stir and leave to soften for roughly 10 minutes before stirring in 120ml of beef broth and a tin of peeled tomatoes. For extra flavour make a sprig of basil and thyme and add to the tomatoes before bringing them to a simmer and cooking for around 20 minutes, stirring occasionally. Add the Hereford beef meatballs to the saucepan and cook for another 10 minutes, turn the meatballs over and cook for a final 10 minutes. Put the spaghetti on to boil while the meatballs are cooking in the sauce.
This is a recipe that is perfect for a rainy day, lots of fun to make with the children and fun to eat too. What's your favourite rainy day recipe? Come and tell us over on the official Hereford Beef Facebook Page.