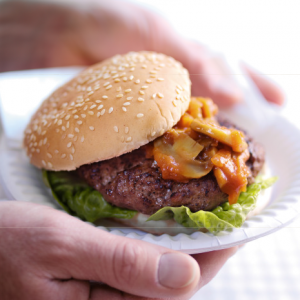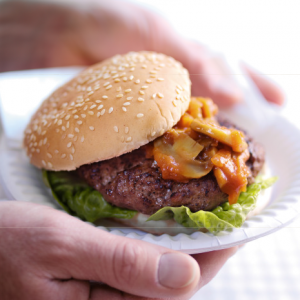 The sun has been shining once more and it's always a good idea to make the most of the warmth, you never know when it will come to an end. Barbecues are popping up in shops along with all the other essentials, coals, utensils, cases of beer and plenty of delicious barbeque foods, everything from Hereford beef burgers to barbeque sauce and salads.  Any day can be a BBQ day, so why not take a look at our perfect treats for BBQ's below and gather your friends; it's time to get the grill on!
If you want to make your own burgers, you'll need some Hereford Beef mince. You can buy it from several well-known supermarket chains, a butcher or farm shop that retails Hereford Beef. While you're there don't forget to stock up on sausages, ribs, chicken wings, diced meat of your choice for kebabs and anything else that takes your fancy.
Salad, vegetables and fruit can be forgotten but they add essential flavour to BBQ's, and some healthy vitamins and minerals too. Take a look at some of these delicious BBQ recipes for some inspiration:
Gather a few bowls and fill them full of your favourite snacks and finger foods such as Tyrells Crisps, they have lots of great classic flavours and they're made from local Hereford potatoes. But we're loving the vegetable crisps at the moment, like the sweet potato and chilli flavour, if you haven't tried them yet we recommend you do!
Don't forget the drinks either. Lots of soft drinks for the kids and anyone who isn't able to drive or keen on drinking alcohol. Pick up some traditional lemonade (or better yet, why not make your own?), Holywell Malvern Water, cordials are all great additions. Beer is an obvious one, we recommend something from the Wye Valley Brewery or Friday Beer Company. If cocktails are your thing stock up on some Chase Vodka and try your hand at one of their delicious cocktail recipes, such as Kiss Chase, heavenly!
Homemade Sauces
Anyone can buy readymade sauces, but the flavours of homemade make going to the effort in the kitchen extremely worthwhile.  Check out the links below for some simple sauce recipes:
Now all you need is some sunshine, time and some music.